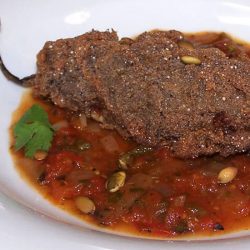 Chorizo Filling
2
tbsp
Extra virgin olive oil
¼
tsp
Coriander seeds, ground
Cheese Filling
2
cups
Chihuahua cheese, grated
¼
cup
Cilantro, finely chopped
½
tsp
Cracked black pepper
23
12 oz bottles of dark beer
Chilies
8
Anaheim chiles, roasted, seeded and peeled
Beer Batter
½
tsp
Cracked black pepper
23
12 oz. bottles of dark beer
Standarized Breading Method
Blue Cornmeal Crusted Chili Rellano
1
Follow the following directions to prepare, cook and batter the chili peppers. To pair with a sauce, I recommend the following:
Prepare the Chorizo and Cheese Mixture
2
1)  Brown the sausage in the olive oil.  
2)  Add the chili powder, coriander, garlic and onion  Cook for a few minutes until soft.  Add salt and pepper to taste.  
3)  Drain chorizo mixture on a paper towel.
4)  Combine all of the cheese filling ingredients in a bowl and add the chorizo mixture.  Mix well and set aside.
Fill the Roasted Anaheim Chilies
3
1)  Divide the chorizo and cheese filling into 8 portions.
2)  Shape the mixture with wet hands and carefully fill the chili.  (The chili will be delicate and may tare a little.)
3) Set peppers aside and/or store until ready to batter and fry.
Prepare Beer Batter
4
Be sure to set the deep fryer to 375-degrees Fahrenheit before the stuffed peppers are battered.  
1)  Combine all dry ingredients.
2)  Whisk in the eggs and add the beer a little at a time.  Mix well.
3)  Check the consistency. The batter should not be too heavy. When you dip your finger into the batter, it should drip off. It will coat the finger, but be thin enough to see the finger under the batter.
Standarized Breading Method and Fry
5
To batter, drudge peppers using the standardized breading method in the following order:
a. Place 1 batch of beer batter in a bowl.
b. In another bowl, add 3 cups of all purpose flour.
c. Finally, place 3 cups of blue cornmeal in the third bowl.
1) Gently drudge peppers and gently drop into heated deep fryer. Cook for a few minutes until golden.